Microsoft Office Training London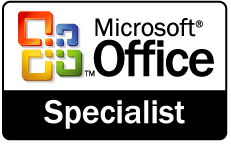 Microsoft Office Training Courses
Souters is a fully accredited Microsoft Academy. This enables us to provide a range of courses (as detailed below in the click boxes). MOS (2010, 2013, 2016) standard is used. Full syllabuses are available in each full detail below.
Microsoft Office Specialist Certification
As mentioned we are a Microsoft Academy and are able to deliver official Microsoft Certiport Assessments and globally registered certification. These qualifications are internationally recognised. You may wish to take this assessment as part of your Microsoft Office training, Secretarial, PA or Administration Diploma. However, you can also take Microsoft Certiport Exams by themselves, add link, to certify your IT skills.
Click on the below link to view details on each Microsoft Office Programme.
" Having recently just finished exams for the 'Microsoft Office Specialist Certification', I would just like to say how impressed I was with the lessons/topics that Souters provided extremely helpful and helped me pass all of my exams. I found the lessons/topics easy to follow and if you are unsure of any answers, you are able to view the correct one. I also found that listening to beginning off each topic very helpful as this gives an overall look at each topic."
We offer the following units:
• Word 2010, 2013, 2016 (Advanced option available)
• Excel 2010, 2013, 2016 (Advanced option available)
• Outlook 2010, 2013, 2016 (Advanced option available)
• PowerPoint 2010, 2013, 2016 (Advanced option available)
• Access 2010 (Advanced option available)
Key Benefits of our Microsoft Courses:
- The training is extremely thorough and you can improve with it from a beginner through to an advanced user.
- Training can be taken online at our accredited centre or at your own convenience at home/work.
- Scheduled tutor-led classes can be arranged, if preferred. Courses are flexible to your needs.
- You can take the packages that are relevant to your requirements and tailor your learning according to your development priorities.
- We are a Microsoft Academy so our Certiport assessments are internationally recognised certifications by Microsoft.
- You can be confident that your qualification will be valuable and recognised.
TESTIMONIAL re MS Office training
" If you are interested in learning more about Microsoft Skills, I would highly recommend Souters as the topics/lessons have everything that you need to know and also at great value. You can also do the external Microsoft Office exams (able to do these at Souters).
---
Refine Search