Microsoft Office Training London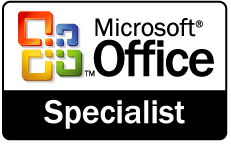 Microsoft Office Training Courses
Souters is a fully accredited Microsoft Academy. We offer MS Office training in Microsoft Office in a variety of formats. We are able to deliver online courses, virtual classroom training courses, scheduled classroom courses and corporate training courses. As a Microsoft Academy, all of our training material and trainers are highly experienced and able to deliver interactive and high quality training courses. All of our training courses are accredited by the CPD Standards Institute, which means we will issue CPD Certificates. This is a highly regarded qualification that helps to build you career profile and CV.
MS Office Courses
We are able to offer training courses in Excel, Word, PowerPoint, Outlook and Access. We have training in each program at all different levels, they are available online. All of the courses are accredited by the CPD and certificates are issued upon successful completion. We also offer a range of Microsoft Office Diplomas.
Please click one of the buttons provided to see the courses on offer for each subject.
Benefits of our Microsoft Office Courses:
The training is available online, in classrooms and in virtual classrooms
We have flexible training options that can fit into your schedule
Training can be taken online at your own convenience at home/work or you can opt to come into our training centre, if preferred
We are a Microsoft Academy so our CPD Accredited assessments provide qualifications that will build your CV and career profile
Our online training programmes are delivered by a virtual tutor that provides interactive instructions and corrects your mistakes
Scheduled and bespoke tutor-led classes can be arranged. These can be done virtually or in a classroom
You can be confident that your qualification will be valuable and recognised
Course Testimonials
" Having recently just finished exams, I would just like to say how impressed I was with the lessons/topics that Souters provided extremely helpful and helped me pass all of my exams. I found the lessons/topics easy to follow and if you are unsure of any answers, you are able to view the correct one. I also found that listening to beginning off each topic very helpful as this gives an overall look at each topic."

" If you are interested in learning more about Microsoft Skills, I would highly recommend Souters as the topics/lessons have everything that you need to know and also at great value. You can also do the external Microsoft Office exams (able to do these at Souters).
Microsoft Office Assessments
Souters is a Microsoft Certified Academy. Therefore, we can offer a range of tests and assessments. We deliver CPD Accredited Microsoft Office Assessments, which can be used by Recruiters and HR departments to assess job applicants. We can offer MOS Certiport Exams to those who would like to gain the Microsoft certification in one of the many Certiport Exams. Please click the below icon to find more details of Microsoft Office Assessments.
---