Microsoft Office Diploma Objective
To gain proficiency in three Microsoft Office Programmes.
Course Content
Please see links to each of the modules for details of the course content. In this course you can elect three training programmes of your choice. For example; Word, Excel and PowerPoint. These 3 units can be taken all at the same time or separately. If you want to take Microsoft Certiport Exams and do not want tuition, please follow this hyperlink Certiport Exams.
DOWNLOAD printable information on this course.
Additional Info
You choose three of the following products to intermediate level:
Microsoft Word Word 2010, 2013, 2016

Microsoft Excel

2010, 2013, 2016

MS Access 2010;

Microsoft Power Point

2010, 2013, 2016

Microsoft Outlook

2010, 2013, 2016
Dates and Duration
You have one month per module to do in-house training at our Microsoft Academy, we are open during office hours (weekdays and Saturdays).
There are live tutors available for support.
You can also choose to study from home if it suits you, in which case we allow three months per module training time. If you want an exam and certificate (optional) you need to book this no later than the end of the three month period or request an extension.
Course Requirements
The only fixed requirement is that all tests are conducted at the training centre. To enjoy the course reasonable keyboarding skills at outset will prove useful.
Benefits
We are a Microsoft Certified Academy. This means that you can decide to continue and take Microsoft Certification. This is recognised all over the world.

Our courses are flexible and can be done in-house or at home, at your convenience. (part-time or intensively)

Courses are prepared by Microsoft Partner experts, and will help you develop MS Office skills to the level of job skill you require.
Outcome
Certification in Three Microsoft Packages if desired.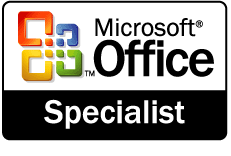 Microsoft Office Diploma
Product Code: 35
Availability: In Stock
Related Products