Microsoft Office Diploma
Objective
To enable delegates to gain knowledge and skills to confidently use Microsoft Office programs. Users can choose to take three Microsoft Office programs of their preference.

Course Content
This Microsoft Office Diploma offers learners the opportunity to develop proficient skills in three Microsoft Office Products in order to gain more rounded skills and higher productivity.
All of the modules are CPD accredited.
The Microsoft Diploma includes the two levels, Beginner and Intermediate. People looking to take Advanced Level training should consider the Advanced Microsoft Office Diploma. This can be purchased as a £50.00 supplement, if bought with the Microsoft Office Diploma to Intermediate Level. You choose three of the following products (Click on each product name for individual product content information) :
DOWNLOAD printable information on this course.

Dates and Duration
We allow three months to complete this Diploma. However, many people complete the training more quickly by dedicating more study time.

The course can be taken online, at your location, or you are welcome to come into our London Training Centre.

The Diploma is certified through completion of final assessments, remotely or at our our centre.
If you do not manage to complete the assessments within the three months allocated, you will be able to pay a small admin fee for extension.

Method of training
This is a state of the art learning system.
The course is delivered using a virtual tutor on live Microsoft Office software; it is not a simulation which is normal.
The virtual tutor will instruct you and correct your exercises live as if you had a personal tutor sitting with you.
You can also contact our centre in London for advice.
Benefits
Training written by senior Microsoft Trainers at a Microsoft Platinum Partner, so the content has been created to the highest standard.

Interactive training on a live server with a Virtual Tutor enabling the learner to receive instruction, as if they have a personal tutor by their side.

CPD Accredited Microsoft Office Diploma issued on successful completion.

The training is highly practical with numerous exercise to ensure learning retention is high.

Professionally accredited qualification will build your CV.
Outcome
CPD Standards Institute Microsoft Office Diploma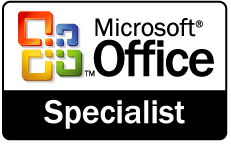 Microsoft Office Diploma - CPD Accredited
Product Code: 35
Availability: In Stock
Related Products